Rain, rain, go away
I've been sitting at home working for part of the day and scanning more photographs in to (eventually) be uploaded to my gallery. I wanted to go for a walk to clear my head after yesterday, but the rain has been persistent and heavier through the course of the day.
Walkyrie tomorrow at the Barbican / ENO. When I saw this production at ENO in January, I was very disappointed (except for the excellent Orla Boylan as a lumbering and fearful Sieglinde). Kathleen Broderick, dressed in tight black leather from head to toe was an unusually foxy but unconvincing Brünnhilde. Oh well, I'll stop carping and go with an open mind.
In preparation, I have listened through my Solti and Furtwängler recordings with the libretto and completed reading the excellent cartoon Ring (book 1) by P Craig Russell. Buy it.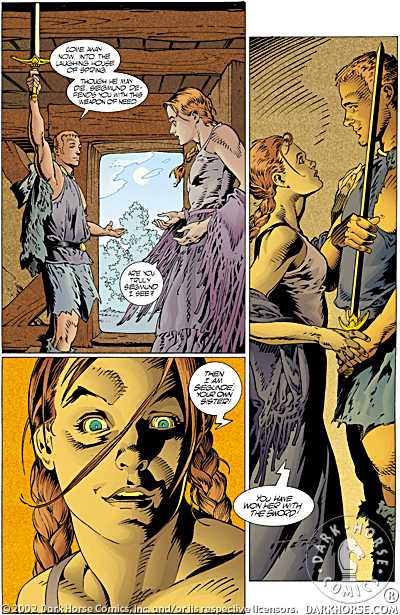 The sword, and the blasphemous union of Siegmund and Sieglinde
Posted by nathan at November 2, 2002 06:17 PM
Thanks for signing in, . Now you can comment. (sign out)
(If you haven't left a comment here before, you may need to be approved by the site owner before your comment will appear. Until then, it won't appear on the entry. Thanks for waiting.)