The Pink Panther was a cipher
When I wrote my diary entry yesterday, it wasn't really a picture of the Pink Panther I was thinking of. But I was far too timid to upload it. Even though it was titillating rather than pornographic.
Have I Got News For You now has the egregious Anne Robinson as mistress. She has developed such a fearsome reputation for herself. It was rather amusing to see Messrs Merton and Hislop undermining her authority on the basis of her former sycophantic relationship with the bouncing Czech, Robert Maxwell. Come back Angus!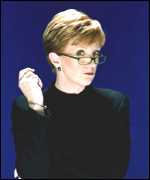 Anne Robinson: snarling bitch, admirable dominatrix or pussy cat?
If you want the picture I was thinking of yesterday you'll have to ask. Nicely.
Posted by nathan at November 9, 2002 11:10 AM
Thanks for signing in, . Now you can comment. (sign out)
(If you haven't left a comment here before, you may need to be approved by the site owner before your comment will appear. Until then, it won't appear on the entry. Thanks for waiting.)