Just Williams
We flew back to the UK this morning, picked up the car (outrageous taxi prices today) and drove back to Cambridge. It's taking a while to warm the flat, and it needs tidying.
This evening, I enjoyed a wistful Arena programme about Radio 4's Just a Minute. Sensible, but surprising, was the extent to which Kenneth Williams' part in the documentary was reduced in proportion to my memories of his dominance of the quiz. He nevertheless hovered in the background, a magical presence. A sense of Williams' presence was almost palpable, a will-o-the-wisp.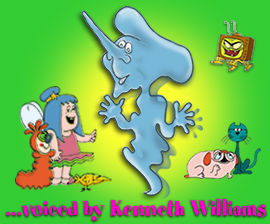 Can you spot Evil Edna?
Off to bed, tired and glad to be back home.
Posted by nathan at December 26, 2002 11:59 PM
Thanks for signing in, . Now you can comment. (sign out)
(If you haven't left a comment here before, you may need to be approved by the site owner before your comment will appear. Until then, it won't appear on the entry. Thanks for waiting.)