Ouroboros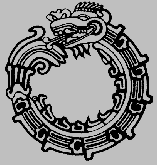 Some people manage to remain aloof from the news, others (like me) are "news junkies". I admire the former. I can do nothing to influence the elected leaders of the UK and unelected leaders of the USA. Still less can I influence the tyrant of Iraq - so surely aloofness is a more appropriate reaction to impotence.
But I sit at my laptop, with the BBC war coverage on all day and all night on the Internet.
And I cannot sleep, with my aunt ill, my family at war and the world devouring itself by the tail.
Posted by nathan at March 27, 2003 08:53 PM
Thanks for signing in, . Now you can comment. (sign out)
(If you haven't left a comment here before, you may need to be approved by the site owner before your comment will appear. Until then, it won't appear on the entry. Thanks for waiting.)