A handful of dust
The mystery of the horde outside the bank was explained in today's New York Times. The manager of the Abacus Federal Savings Bank was dismissed, suspected of embezzling over $1m. The depositors, mostly Chinese, read of this in a local newspaper and descended on the Mott Street branch in a scene reminiscent of newsreels from the Great Depression, a mob, fearful of the bank's collapse, demanding to withdraw their savings.
We travelled by subway the dozen blocks or so to the site of the World Trade Center. A place of sombre reminiscence, made more poignant by my memory of being at the top of one of the towers in early November 2000. On that day, we saw the shadows cast by the twin towers across the tickertape parade as it passed below, celebrating the victory of the Yankees in the World Series. The skyscrapers seemed so bold, so purposeful, so American.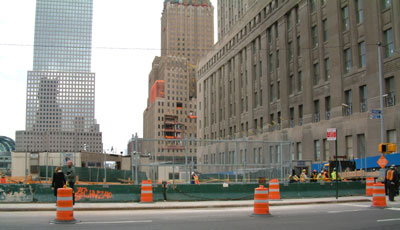 And here was a twenty acre lot, with workers busily excavating the new subway lines to replace those destroyed. Tourists took photographs - some respectful, some tasteless - as they read the placards and graffiti on the fence erected around the site. Hawkers pestered us with offers of rubble and dust.
An inscription on one of the placards exhorted America not to succumb to the hatred that led the terrorists to perpetrate such an evil act. But how their government has failed in that purpose! Thrashing about, trying to apportion blame and retribution, they have positioned America as the world's greatest rogue state, massacring civilians in Afghanistan and Iraq, still detaining over six hundred prisoners without trial or legal rights in Guantanamo Bay and bullying its own citizens and other nations through progressive reductions in civil liberties and the policy of "if you're not with us, you're against us". All in the name of the freedom, justice and "inalienable rights" that were the cornerstone of this nation's bid for greatness.
Whilst we were at the WTC site, I received a call from the office saying that tomorrow's Concorde flight has been cancelled "for technical reasons". Hmm, sounds like loading to me. They offered us a downgrade to First Class, but after checking with colleagues about Friday's meeting in London; we decided to stick with the dream of flying back to the UK by Concorde and rebooked our tickets for Friday. A surprise extra day in Manhattan!
After that excitement, we met with Sara at her apartment in Christopher Street, in the heart of the village. Sara was glowing, a changed person from her life in Bushey. A year at film school in New York has given her a new self-confidence and a radiance that glows through her skin. Her next step will be difficult, as finding a job in television must be ever so hard. But with her new-found independence, I'm certain she'll make it. We ate and chatted for several hours before realising that we had to move on.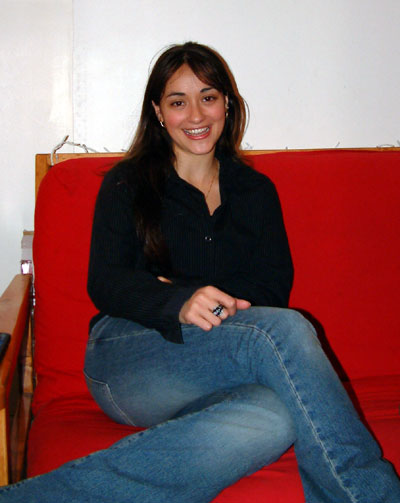 We squeezed in a little shopping on the way back to the hotel. No luck finding presents at Dean & Deluca on Broadway. Then back uptown for supper with Sylvie and Sondheim's Gypsy with Arwin, Sylvie and John (her pleasant work colleague).
Gypsy was an excellent show, with a strong ensemble cast and an outstanding lead. Unlike many of Sondheim's musicals, I wasn't familiar with the story or the music, so I came to the performance with an open mind. The story of Gypsy Rose Lee was well told and the strobed transformation sequence from child to adult actors was most effective. Our evening out concluded with frozen cocktails in TGIF at Times Square.
Posted by nathan at April 23, 2003 01:53 AM
The last pictures I saw of ground zero were as it collapsed in columns of smoke and dust. To see an empty space with clear blue skies seems wierd and dispondant from the event itself.
And on a lighter note, your friend Sara looks beautiful, you'll have to introduce me sometime.
Posted by: Cosmo Hill-Miers at April 29, 2003 03:28 PM
Thanks for signing in, . Now you can comment. (sign out)
(If you haven't left a comment here before, you may need to be approved by the site owner before your comment will appear. Until then, it won't appear on the entry. Thanks for waiting.)