Celebrations in Baghdad - victory for death
Iraq seems to have fallen to the coalition forces. Saddam Hussein is nowhere to be found and his statue in the centre of Baghdad has been toppled.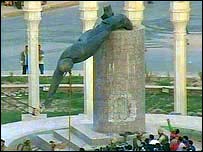 One of the main arguments advanced against my view of this intervention is that more lives will be saved through regime change than have been expended in the war.
I don't doubt that.
But war wasn't the only option.
I'm happy to stand alone and argue against the killing of other human beings.
Call that a fight?
Saddam statue toppled in central Baghdad square
US marines sent a towering bronze statue of Saddam Hussein crashing to the ground amid loud cheers on a central Baghdad square on Wednesday.
After fruitless efforts by Iraqis, it took the marines and a tank recovery vehicle with a crane to secure a chain around the statue's neck to pull it over.
Dozens of Iraqis jumped on the figure shouting with joy.
The statue was demolished after US tanks rumbled on to al-Fardus (Paradise) square in the late afternoon and dozens of people quickly gathered to watch and warmly welcome the troops.
The crowd soon set about trying to destroy the monument in a symbolic gesture marking the collapse of Saddam's Baath Party regime.
Initially, the marines covered the statue's head with an American flag, but then took that flag down and replaced it with an Iraqi flag around its neck.
Posted by nathan at April 9, 2003 07:58 PM
Thanks for signing in, . Now you can comment. (sign out)
(If you haven't left a comment here before, you may need to be approved by the site owner before your comment will appear. Until then, it won't appear on the entry. Thanks for waiting.)