Pacino clowns as Herod
We ate at Osteria del Circo, a trendy Italian restaurant (the chocolate soufflé was heavenly) before moving to the SoHo Grand today. Downtown Manhattan feels so much more 'happening' than the Theater District.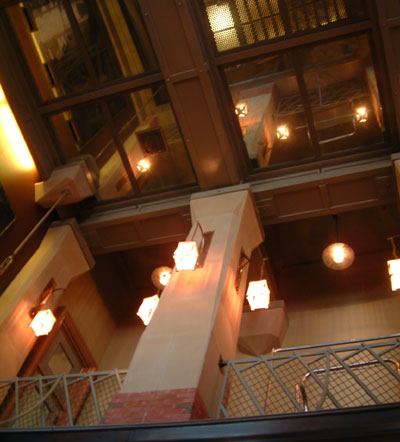 We had time for some shopping but Canal Jeans has given way to Bloomingdale's - we managed to find jeans and shirts in OMG, another nearby store on Broadway.
Back uptown to see Al Pacino in a semi-staged production of Oscar Wilde's Salome. A riveting experience, let down, curiously, by Pacino's clown-like antics as Herod. Marisa Tomei in the title role was especially memorable. She had a seductive, bewitching quality that emphasised the hollowness of Pacino's interpretation.
Pacino is quoted as saying "We made the decision to mount Salome in this way because we felt it would better serve Wilde's text. A staged reading yields a significant style unlike any other - it allows an audience the freedom to imagine and connect to the play in a different way". Without him, preferably.
To round the evening off, we went to the XL bar in Chelsea, where we caught a live performance by Shoshanna Bean (surprisingly good - ex "Hairspray"). How pleasant to be in a bar with no cigarette smoke and not too much attitude! The waterfall and walls that changed colour made this a pleasant space.
Posted by nathan at April 21, 2003 01:48 AM
Thanks for signing in, . Now you can comment. (sign out)
(If you haven't left a comment here before, you may need to be approved by the site owner before your comment will appear. Until then, it won't appear on the entry. Thanks for waiting.)