April 08, 2003
Succulent
The office is looking better now. It's not so bare, now we have some accessories in there.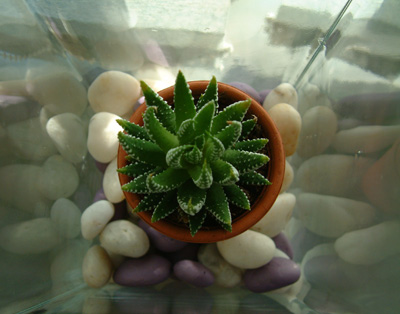 We had a visit from the business editor of the Cambridge Evening News. Let's see what she publishes next Tuesday.
This picture will leave you vertically challenged. Scroll down.

We had a good sales meeting in the morning too. Not a bad day overall.
Posted by nathan at April 8, 2003 10:34 PM
Comments
Your office accessories look lovely. Put up some pictures of the office!
You are so lucky to have a elegant office. Sadly, as an IT services supplier we have to keep our office looking rough and ready, otherwise the customers start looking nervous and accusing us of being too expensive.
I'm not kidding either. Our key customer wants a meeting tomorrow to reduce their IT spend by two thirds without reducing the quality of service provided. I have prepared a presentation to demonstrate to them that they are already spending less per seat than a typical company according to Gartner, and less as a % of their revenue than a typical company in their business sector. And I can show them that for what they want to pay, they would have to have the work done by a 16-year old who had played with his dad's computer, at best.
If it doesn't persuade them to reduce their cost cutting ambition, we are in big trouble!
A fancy office is a very, very long way away. :-(
Posted by: Pita at April 9, 2003 08:50 PM
Come visit, Pita.
We've actually done it quite inexpensively. I bargained down the office rent by over 20% from the asking price, so we've ended up with somewhere bigger than we need at our budget price (so there's room for a few more people). Alfred and I have been the stylemeisters, being very strict about colours, so it looks ok, and I kept within a budget - in the marketing world, I wanted us to look like a company that is image-conscious without going overboard. Despite your comment, people will generally pay more for the same service if it's branded well. What they don't like is psychological dissonance (bullshit) - in other words things that come across as being posey or uneccesary.
Posted by: Nathan at April 10, 2003 05:36 AM
Post a comment
Thanks for signing in, . Now you can comment. (sign out)
(If you haven't left a comment here before, you may need to be approved by the site owner before your comment will appear. Until then, it won't appear on the entry. Thanks for waiting.)