Supersonic
I salved my conscience by going into work for a few hours before leaving for London. Mum and Dad looked hassled with preparations for Passover supper - and that only added to my guilt at flying off today. I enjoy the family Seder, and would have liked to have seen Vincent, Cosmo and Fif.
After some tea and Passover biscuits we left for the tube, only to find that there were no trains. Dad was a hero and drove us to Heathrow (which resulted in us arriving even earlier than we'd expected).

We proceeded to the hallowed halls of the Concorde lounge. There was nothing to do there except drink champagne and munch canapés, so that's what we did. The nature of the Concorde clientele was revealed when the aeroplane drew up to its stand. A number of passengers took photographs and became noticeably more animated, whilst the rich and famous skulked in corners of the lounge.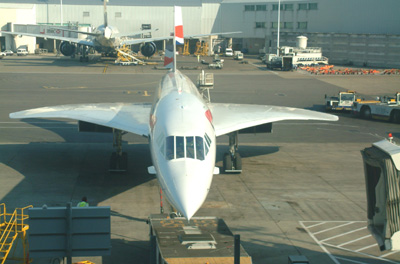 The wings of the plane appeared far more curved and birdlike than I had remembered, resembling an elegant bird of prey, powerful, metallic, gleaming and humming.
At last the time came to board. Although well fitted out, with blue leather upholstery throughout, the cabin was quite cramped. More so than on an economy seat on a 747 (or so it felt).
The take-off and flight were fascinating. The aeroplane accelerated at full thrust, with afterburners roaring. We took off and ascended rapidly, before the afterburners were switched off to reduce noise. This was an eerie sensation (the afterburners were only reignited at Mach 0.7).The sounds of the aircraft were unfamiliar and, for that reason, somewhat disconcerting. The only surprise was that I didn't notice any sonic boom as we passed the speed of sound. I'll have to look out for that on the way home.
We ascended to 55,000 feet and cruised at Mach 2. The main onboard activity was eating and drinking. A middle-aged man in the most garish of pink striped shirts proposed to his girlfriend in the seat behind us. She accepted, to the applause of neighbouring passengers - and then spent the rest of the journey vomiting. I couldn't tell whether it was the excitement or the shirt.
The experience of flying Concorde was great. The atmosphere was different than I had imagined. Fewer of the rich and famous (although I recognised a few faces), and more people there for the trip of a lifetime. Like us, I guess.
We arrived at JFK at about 17:30 and sped through immigration and customs. Our yellow taxi slewed scarily through the rush hour traffic in Queens and over the Triborough Bridge into the city. We checked into the Le Parker Meridien on 57th and 7th tired and a little too late for the theatre. Sylvie had reserved a pleasant suite for us. So we made the most of it.
Posted by nathan at April 16, 2003 01:24 AM
Seems you have followed my NY trip 3 years ago but in reverse - then I stayed also in Le Parker Meridien (I always try to do so), but returned to the UK by Concord.
My recollection is of superb food, superb wine, and superb HiFi from the headphones - didn't miss the TV one bit.
No familiar famous people on my flight though.
Will miss Concord - hope Virgin get it but I doubt that BA will let its rival have it.
Posted by: Howard at May 13, 2003 05:11 PM
Thanks for signing in, . Now you can comment. (sign out)
(If you haven't left a comment here before, you may need to be approved by the site owner before your comment will appear. Until then, it won't appear on the entry. Thanks for waiting.)