Teutonic artfest
Today was German day. We traipsed back to the Upper East Side to visit the Neue Galerie on East 86th Street. What a pleasure it turned out to be (and how disappointing that the museum shop left me with no memorabilia. The highlights were portraits by Christian Schad in "Christian Schad and the Neue Sachlichkeit" and a room full of Gustav Klimt sketches and early paintings. Delicious. One room had several handsome clocks from early twentieth century restaurants and shops.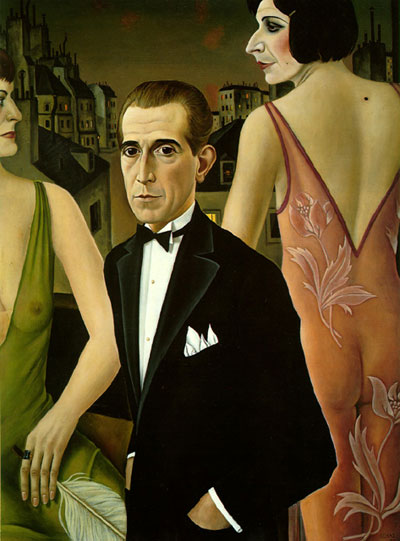 But this was a mere amuse guelle to the main course of the day. I approach a live production of Parsifal with some "fear and awe". I'm intimidated by the scale of the work, some guilt at dragging Alfred along and the likelihood that I'll fall asleep during the performance. There. Most Wagner fans wouldn't admit that. But Parsifal is an opera both grand in its ambitions and very ponderous in its illustration of the central messages of purity, purpose and redemption. The sacred nature of the opera was underlined by its performance on Good Friday.
This production, my first experience at the Met, was delectable. Placido Domingo sang the title role, accompanied by an outstanding Rene Pape as Gurmenanz, Linda Watson as Kundry and Falk Struckmann as Amfortas. Valery Gergiev conducted the orchestra. This strength in depth made for a memorable evening. Three features distinguished the experience from earlier Parsifals. First, the lavish and entrancing set, which seduced the audience into a world where the Grail shines and magic castles exist. Second, the famous singers - Domingo and Pape were outstanding. Third, and less fortunate, was the poor audience behaviour. Inappropriate applause at the end of each act tarnished the gravitas of this most solemn work of Wagner's oeuvre.
As to the work itself, after listening through my recording four times in anticipation, I am inclined to leave this grand but slothlike myth alone for a little while.
Posted by nathan at April 18, 2003 01:33 AM
Thanks for signing in, . Now you can comment. (sign out)
(If you haven't left a comment here before, you may need to be approved by the site owner before your comment will appear. Until then, it won't appear on the entry. Thanks for waiting.)