Underneath the sheltering sky
Today was the most memorable birthday of my life. Alfred had organised a set-up whereby an evening meeting was cancelled and I was dragged away from my desk at 15:30. We drove to a golf club near Longstanton - even as we drove into the car park I had no idea. I assumed we were going for a golf lesson (oh the distantly remembered humiliation)! It was only when I saw all the people standing around the car park that I realised something else was up.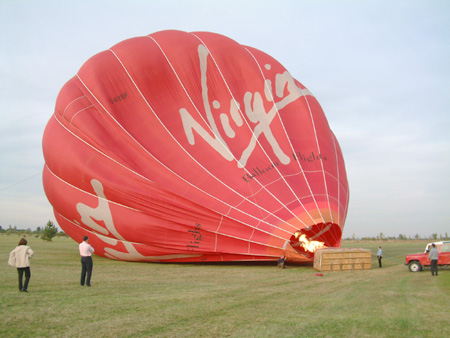 We all had to help offload the gondola, unfurl the huge balloon and inflate it.
Landscape in the haze
The gondola was far more capacious than I had imagined, there were sixteen passangers, plus the pilot. We drifted with the wind about a thousand feet above the flat Cambridgeshire landscape, with Ely cathedral in the hazy distance, fields, roads, villages and drainage canals below.
The overall sensation was dreamlike. It was as though we were floating in silence (except for the occasional burst of the gas burner). I was careless, ecstatic, eyes wide open and scared to blink in case I missed an iota of the experience. A rarity for me to live in the moment.
The sounds that carry into the air are odd. An ice cream van blared out its instrusive tune, dogs barked and children in a garden screamed their pleasure and waved at us as we floated by, underneath the sheltering sky.
The sun set, and it suddenly seemed chilly. We landed north of Chatteris and helped rolll up the balloon before a bumpy ride in a Jeep back to Longstanton.
The rest of the pictures are in the gallery.
We later went to Venue for supper and had a rather pleasant bottle of Gewürztraminer.
An extraordinary day. Thank you, Alfred.
Posted by nathan at 11:50 PM | Comments (0)