Ending our holiday on a high note
Back to the Olympiazentrum where the BMW museum was open. It was interesting to see old versions of PEW. The forward-looking elements of the exhibition (those concentrating on intelligent cars and traffic management initiatives) were rather disappointing, compared with the much criticised Ford zone in the Millennium Dome. Concepts such as satellite navigation were displayed as future developments. I suspect that this part of the museum should be updated with a conceptual display more befitting BMW's image.
We saw Die Zauberflöte at the Bayerische Staatsoper in the cold Christmas evening. Excellent performances by Diana Damrau as the Königen der Nacht and Aga Mikolaj as Tamina. The production was atmospheric and employed excellent scenery and costumes designed for the 1978 première.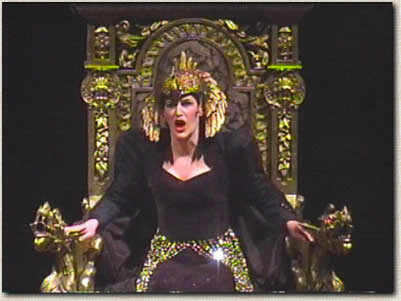 The highest voice of all is the coloratura soprano (inaccurately named, in that coloratura literally means rapid passages, trills, and ornamentation). A genuine coloratura has an unmistakable light, birdlike quality to her voice. She often sounds much like a flute or piccolo, and these instruments often are given music to accompany her. Two of Mozart's most famous operatic roles were written because his sister-in-law, Josefa Weber Hofer, was a coloratura, and she sang the parts of the Queen of the Night in The Magic Flute and Constanze in The Abduction. A number of operatic roles call for high sopranos with voices of great flexibility which can trill, sing scales with the utmost rapidity, and make wide jumps, but do not go to the astronomical heights (F or F sharp, two and a half octaves above middle C) of Mozart's coloratura or Zerbinetta in Richard Strauss' Ariadne. Some of these roles, with top notes of an E flat or an E natural, are Lucia in Donizetti's Lucia, Gilda in Verdi's Rigoletto, and Norma in Bellini's Norma ( 1831). The flutter of the vocal cords in high registers demands constant practice (presumably a soprano high C gives off about 1,025 vibrations per second). A coloratura must be a slave to vocal exercises that keep her voice in tip-top condition to prevent the vocal cords from thickening.
The lyric soprano is the embodiment of the high, bright, clear female voice. Susanna in Figaro and Mimi in Bohème are examples. This is the voice of young womanhood or of the youthful heroine. When the role is quasi-comic, the description soubrette (French for "cunning," "shrewd") is often applied. Another term used is spinto (Italian for "pushed" or "urged"), which signifies a soprano whose tones have greater brilliance and carrying power than the usual Iyric soprano. Many Verdi heroines are in this group: Leonora in Il trovatore, Elisabetta in Don Carlos (1867; 1884), Leonora in La forza del destino.
Last in the soprano group is the dramatic soprano. This voice is rarer because it often takes on the heavier and darker hue of a mezzo or a contralto but is still a genuine soprano with a high range and ringing sound. It is generally a big voice with very full medium and low tones. The voice may not develop fully until the late 20s or early 30s although it is embryonically present earlier. Two of the most famous dramatic soprano roles in opera are Brunnhilde in Wagner's Ring and Isolde in Tristan und Isolde. Leonora in Beethoven's Fidelio also is a dramatic soprano.
Ausgezeichnet.
Posted by nathan at
11:59 PM
|
Comments (0)